NLQ-4: Historical injustices and ancestral land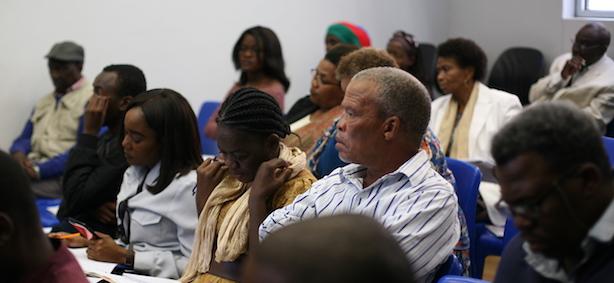 Tuesday, September 13th, 2018
This event is undertaken in partnership with the Civil Society Working Group on land reform and supported by the Friedrich Ebert Stiftung (FES).
Differently from the National Land Conference in 1991, the second edition aims at addressing the 'ancestral land question'. There are several parties that have a claim to the land on ancestral grounds, these vary in nature and since Namibia has not yet enabled a mechanism to honour ancestral land claims, these remain as social demands. At the same time, there has been academic research undertaken, and there are also new openings for further research that could shed new light into these claims. Various resources exist currently in the National Archives of Namibia, consisting of maps, voice recordings, deeds of sale, among others. There are also methodologies (e.g. oral histories) that are typically used elsewhere for making the case for ancestral land claims. The session proposes to discuss the nature of the existing claims to ancestral land, and then discuss the tools at hand to undertake further research to outline the nature and extent of the 'ancestral land question' today.
You can read the documentation of this event in Thursday, September 27th, 2018, edition of The Namibian here.
You can see the programme of the event here.
You can see photos of the event here.
PRESENTATIONS
'Infusing restorative justice into the land debate' by John Nakuta, presentation here.
'NANGOF Consultation Findings on Agricultural land' by Sima Luipert, presentation here.
'//Naosan /Aes submission on Resettlement: Farm Workers, Ancestral Land, Absentee Landlords, Urban Land' by Brigithe Oases, presentation here.
'╪Nūkhoen on the Second Land Conference 2018' by Abner Xoagub and Rosa Namises, presentation here.
MAPS
(Title of maps is a direct transation from the text in the original, permission requested from the Namibia National Archives)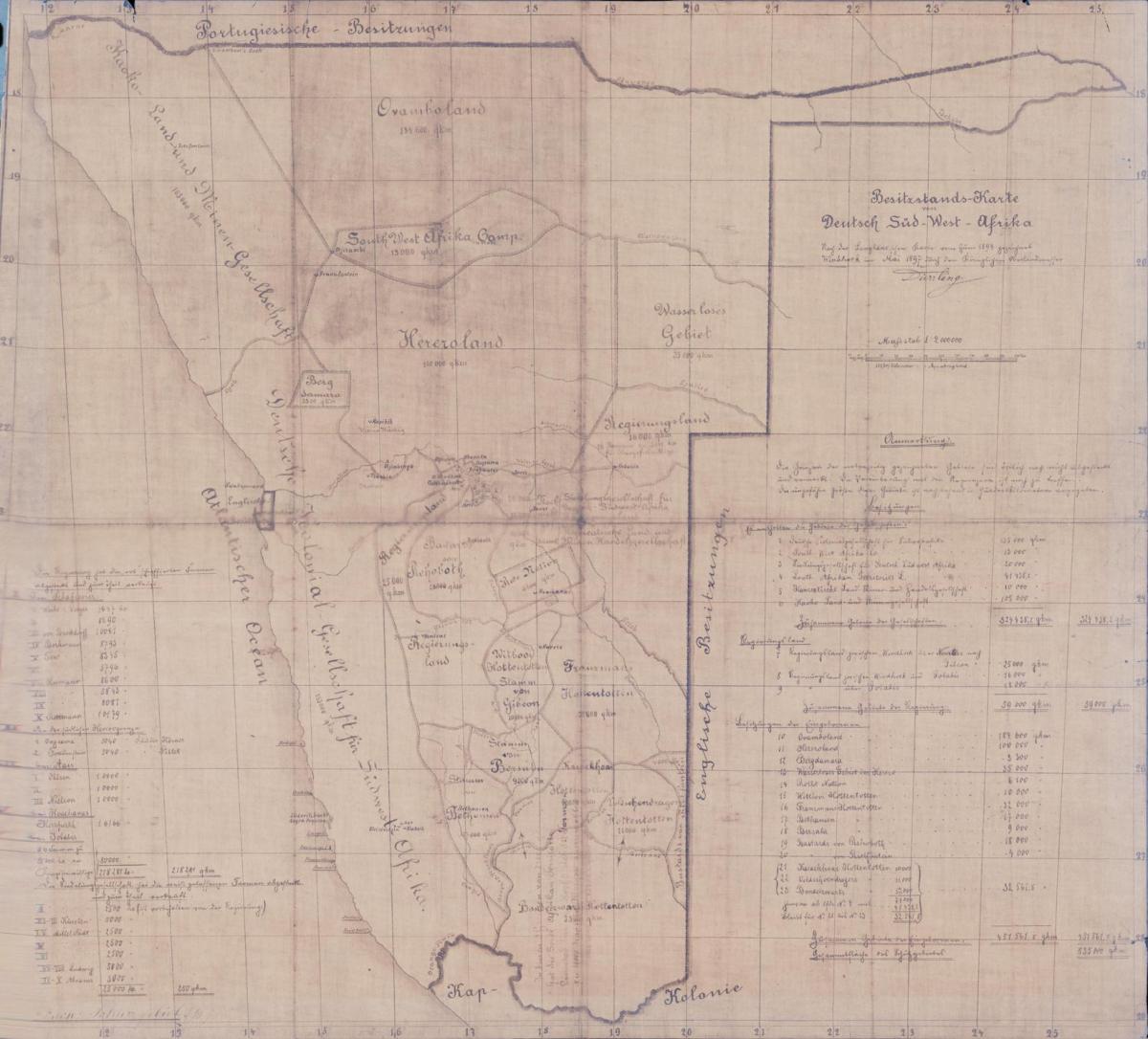 Cadastral map of South West Africa
Drawn in May 1887 in Windhoek by the Royal Land Surveyor Dürrling after the Langhans Map of June 1894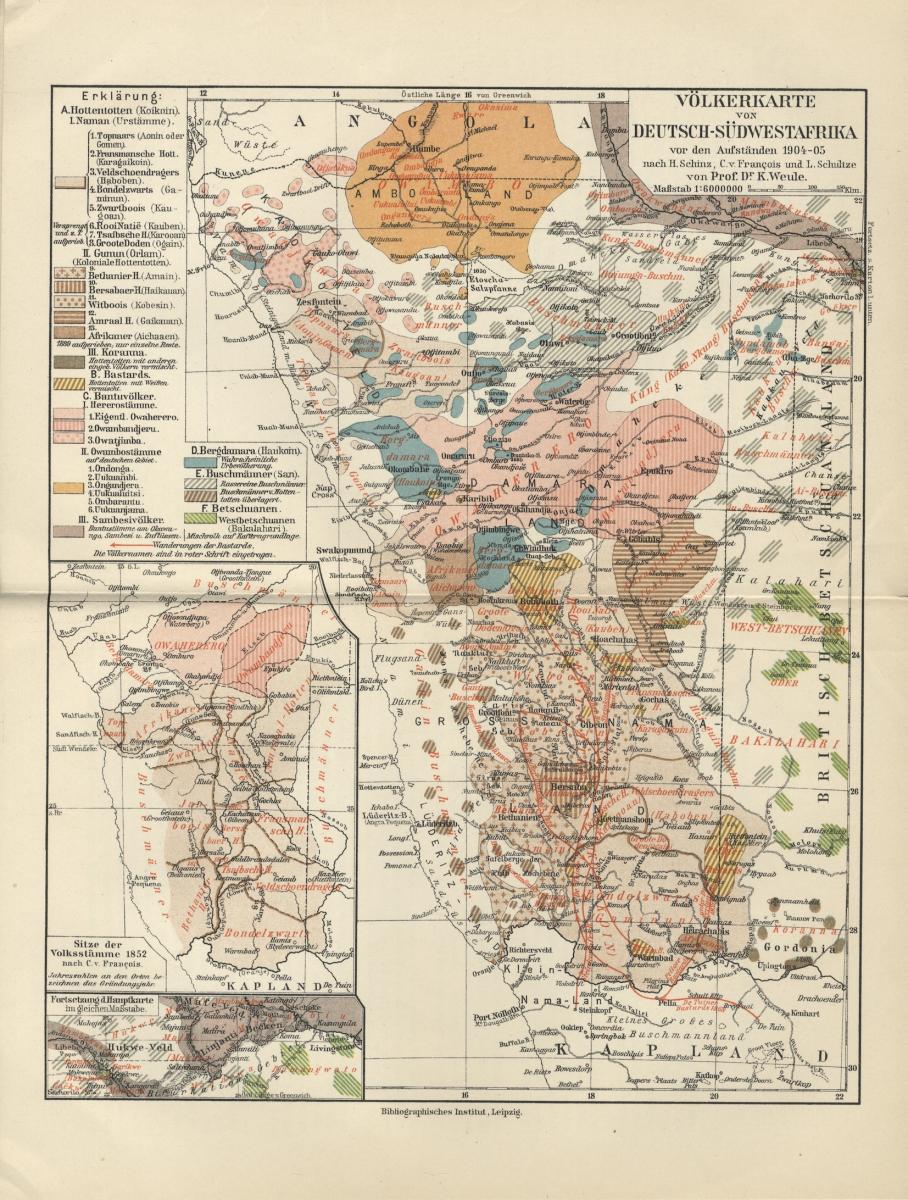 Ethnographic map of South West Africa
before the 1904-05 uprisings
drawn by Prof. Dr K. Weule
after H. Schinz, C. v. Francois, and L. Schulze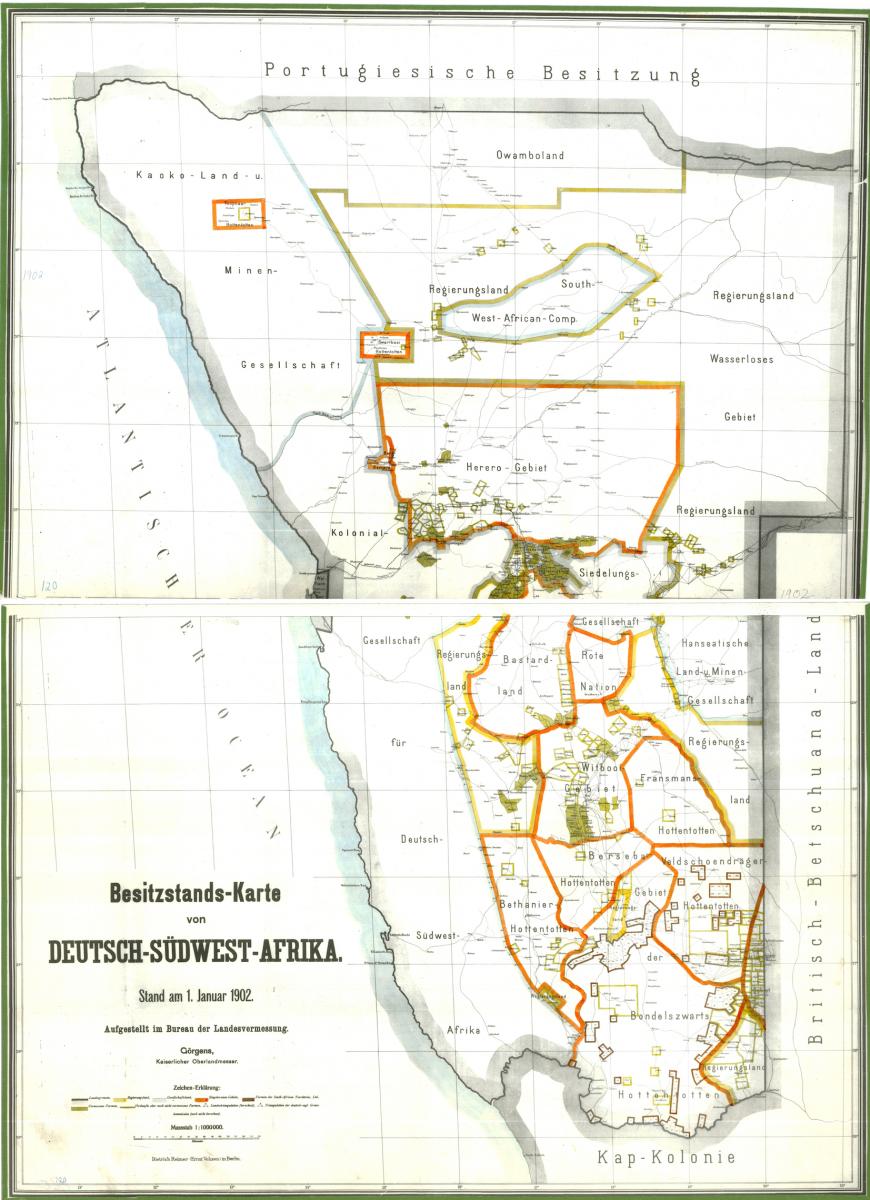 Cadastral map of South West Africa
As of 1 January 1902
Prepared at the Office of the Land Surveyor
Görgens, Royal Land Surveyor
Key
(Top, left to right: territorial border, government land, corporate land, natives' territories, farms from the South African Territories, Ltd.; Bottom, left to right: surveyed farms, sold but not yet surveys farms, calculated land triangulation, not yet calculated triangulation of the German-British border commission)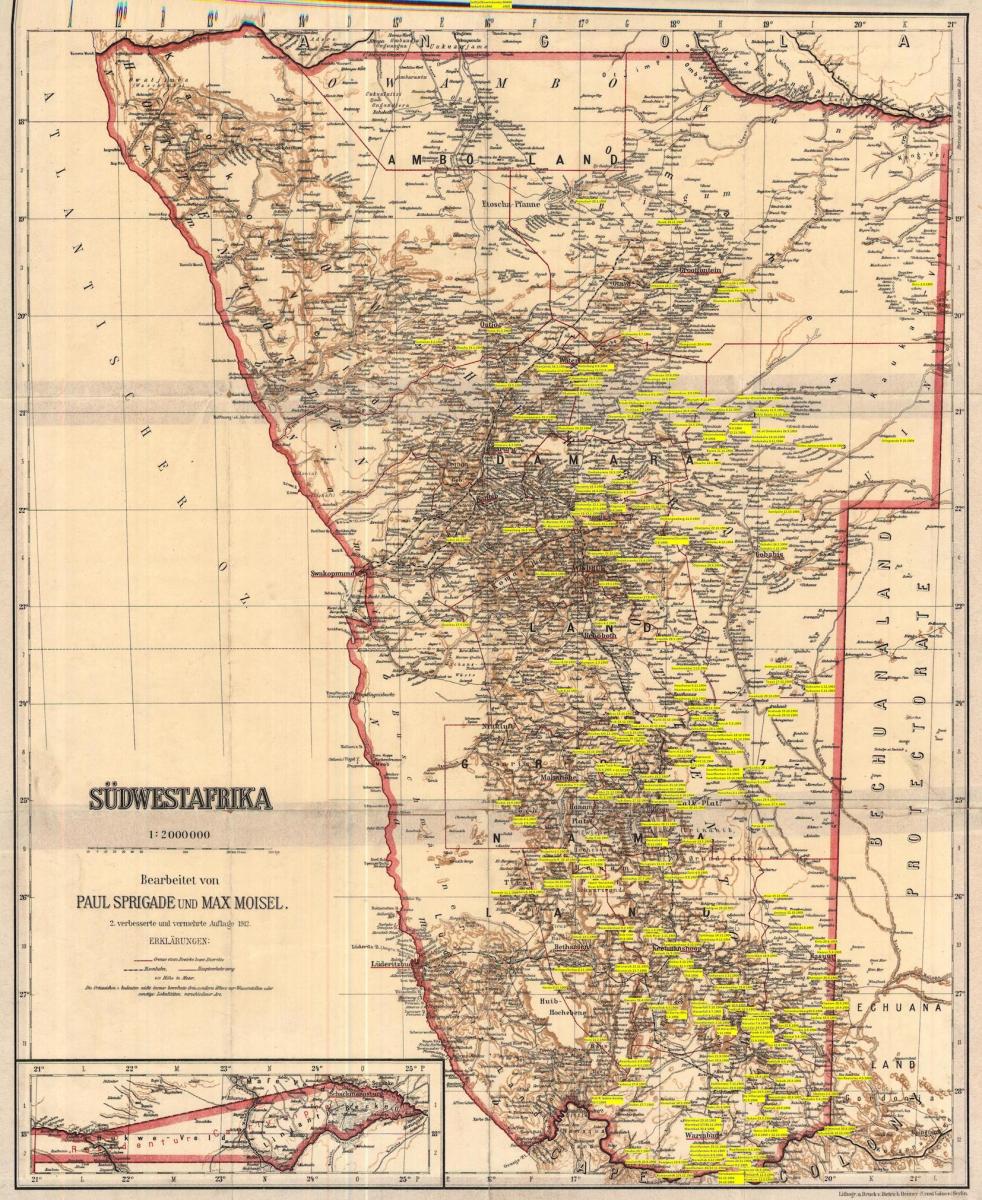 South West Africa
Prepared by
Paul Sprigade and Max Moisel
Second improved and expanded edition, 1912
Key
(Top) Borders of a District
(Middle 1, left to right) Railway, main traffic route
(Middle 2) 410 'Height in meters'
(Bottom) The place symbol 'o' doesn't always indicates an inhabited place, but often only water points or similar localities of different sorts.
Battles of the 1904-1908 war indicated by place and date by Werner Hillebrecht (in yellow).
Read more about The New Land Question programme here.