Memorandum of Understanding between NUST and the City of WIndhoek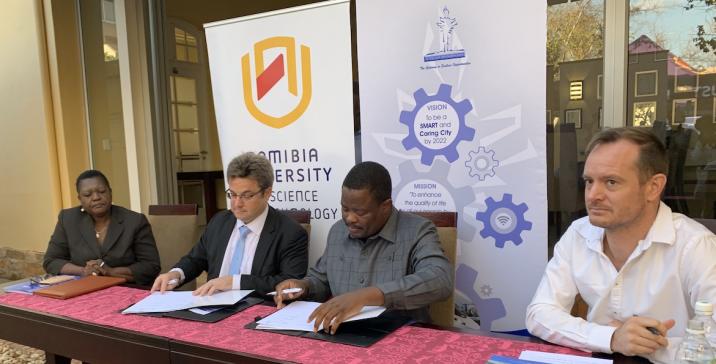 The Namibia University of Science and Technology (NUST) and the City of Windhoek (CoW) have signed a Memorandum of Understanding (MoU) to formalize cooperation in various fields related to urban development.
The specific areas of cooperation are on:
•    Research and development;
•    Smart city and technology;
•    Economic advancement;
•    Urban, transport, environmental and human settlement development;
•    Water, sanitation and electricity;
•    Adequate housing;
•    Disaster and emergency management;
•    Capacity development;
•    Public participation; and
•    International relations.
The MoU enters into effect from May 2019 and is valid for a period of five years.
The overall activities under this MoU will be coordinated by a staff member from both institutions. Interested parties willing to undertake a joint activity between the two institutions are encouraged to contact the responsible employees for this MoU.
NUST: Mr Phillip Lühl, Lecturer: Department of Architecture and Spatial Planning, pluhl@nust.na
CoW: Mr Christopher Eita, Executive: Mayoral Support and International Relations, Christopher.Eita@windhoekcc.org.na
You can read the MoU here.
___
Read the event programme of the Signing Ceremony here.
You can read the speech of Mr Morné du Toit, Acting Vice-Chancellor, NUST, here.
You can read the speech of Mr Robert Nandaa Kahimise, CEO, City of Windhoek, here.
You can read the speech of Cllr Agatha Ashilelo, Chairperson of the Management Comittee, City of Windhoek (read by Cllr Teckla Uwanga), here.
You can read the closing remarks of Mr Phillip Lühl here.
___
You can also see the NBC report on the news here.
And you can see the report of NUST on the MoU here.