Green Hydrogen: Towards Just Energy Futures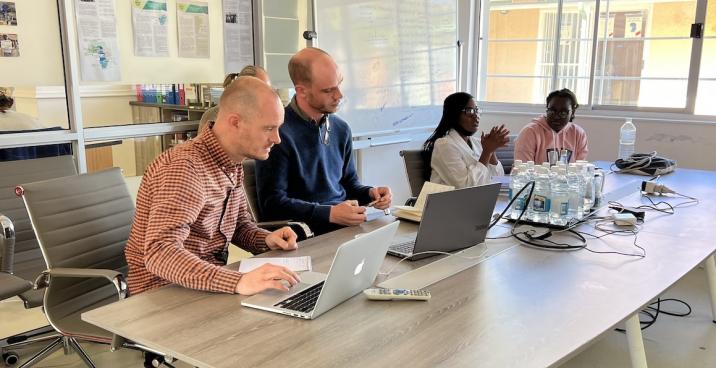 Green energy transitions, such as the development of Namibia's green hydrogen industry, hold the potential to attend to both crises simultaneously. However, questions remain about how the benefits of these transitions will be generated and distributed.
The event features a presentation by Dr William Monteith, Queen Mary University of London; and responses by Dr Phillip Lühl, Namibian Uniersity of Science and Technology; and participation from colleagues from other institutions.
You can download the presentation HERE.
You can read the summary of the session HERE.
To read more about the work of Dr Monteith, visit his HOMEPAGE and TWITTER.
---
For a preliminary bibliography on Green Hydrogen in Namibia, see:
Government and IFI reports
Government of Namibia (2022) Namibia's Green Hydrogen Opportunity: Key Questions & Initial Answers, January 2022
Government of Namibia (2022) Traction: Namibia's Green Hydrogen Overview, April 2022
World Bank (2020) Green Hydrogen Opportunities for Namibia: Phase I Report, December 2020
World Bank (2020) Green Hydrogen in Developing Countries
Private sector reports 
Hyphen (2021) 'Southern Corridor Development Initiative', Namibian Green Hydrogen Roadshow Discussion Document, 13 December
McKinsey & Co (2021) Roadmap to Build Namibia's Green Hydrogen Sector, May 2021
Port of Rotterdam (2021) Namibia-Port of Rotterdam Hydrogen Supply Chain: Pre-Feasibility Report, May 2021
Civil society reports
Konrad Adenauer Stiftung (2021) Issues, challenges and opportunities to develop green hydrogen in Namibia, October 2021
IPPR (2022) '(Almost) everything you wanted to know about green hydrogen and Namibia (but were afraid to ask)', IPPR Special Briefing, February 2022
IPPR (2022) 'Procurement Tracker Namibia', No.16, April 2022
IRENA (2020) Green Hydrogen: A Guide to Policymaking, IRENA: Abu Dhabi
IRENA (2022) Geopolitics of the Energy Transformation: The Hydrogen Factor, IRENA: Abu Dhabi
Powershift Africa (2022) 'Civil Society Perspectives on Green Hydrogen Production and Power-to-X Products in Africa'
Academic research
Müller, Franzisca(2022) 'Green hydrogen risks and hydrogen justice', Sustainability Politics Event, Brunel University, 18 May