Climate Change, Fast Urbanization, Green Areas, Natural Ecosystems and Biodiversity in Windhoek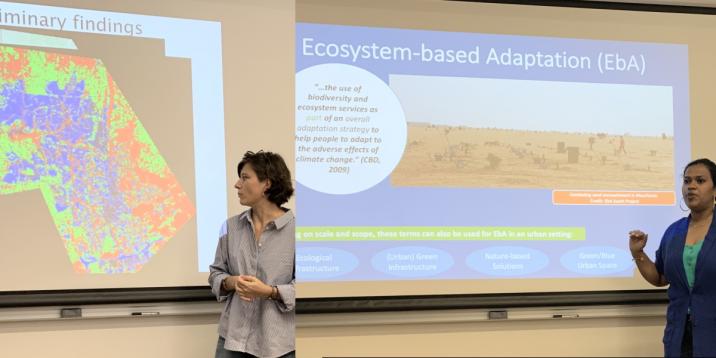 The seminar took place on Friday, July 19th, 12h30-14h, and consisted of two short presentations of two on-going research projects by MSc students at the University of Oxford; followed by input from Mr Kaleb Negussie, Department of Geo-Spatial Sciences and Technology, and Dr Ibo Zimmerman, Department of Agriculture and Natural Resources Sciences, NUST.
Ms Valentina Giombini presented her research on how the river system of Windhoek can be studied in view of climate change predictions and fast urbanization rates. She conducted research in Khomasdal, Okuryangava, Ludwigsdorf and Katutura. She collected data using remote sensing, semi structured interviews with residents and interviews with key informants. In her preliminary findings, she found that most urban green spaces are situated along riverbeds and that private green areas are found in wealthy neighbourhoods. Moreover, she also found that criminality and sewerage is a constant problem in the informal areas and that there are fewer ecosystem services in cemeteries and playgrounds.
Ms Amayaa Wijesinghe presented on the role that natural ecosystems and biodiversity can play in reducing vulnerabilities to climate change if leveraged correctly, particularly in the context of the expanding peri-urban settlements surrounding Windhoek. She discussed the predictions of how Namibia's climate change was going to change rapidly in future due to global environmental change.  She discussed whether ecosystem-based adaptation (EbA) can play a role in increasing climate resilience in informal settlements in Windhoek. In her preliminary findings, she found that ecosystems and natural environment are immediately connected to riverbeds, trees, bushes and the surrounding environment, that access to water is a key limitation and that there were differing reactions towards urban agriculture. She highlighted the importance of trees beyond the commonly acknowledged use for aesthetic and shade purposes in informal areas; but also to support social networks active in the upgrading process.
---
About the presenters
Valentina Giombini is following the MSc in Environmental Change and Management at the University of Oxford. Her research looks at how the river system of Windhoek can be exploited in view of climate change predictions and fast urbanization rates. Her research looks at green areas as multifunctional spaces and at the potential of managing riverbeds as natural areas, to increase the resilience of the city; and as public spaces, to increase the well-being of residents.  Her research explores the themes of connectivity, historical legacy, zoning and integration. Further information regarding her programme can be found here: https://www.ox.ac.uk/admissions/graduate/courses/msc-environmental-chang...
https://www.eci.ox.ac.uk/msc/course-info.html.
Amayaa Wijesinghe is following the MSc Biodiversity, Conservation and Management at the University of Oxford. Her research looks at the role that natural ecosystems and biodiversity can play in reducing vulnerabilities to climate change if leveraged correctly, especially in the context of the expanding peri-urban settlements surrounding Windhoek. Her research includes focus groups, interviews and expert knowledge, and explores current, planned and potential biodiversity-based climate adaptation initiatives. Further information regarding her programme can be found here: https://www.ox.ac.uk/admissions/graduate/courses/msc-biodiversity-conser...
https://www.geog.ox.ac.uk/graduate/msc-bcm/