SEVEN IDEAS FOR INFORMAL SETTLEMENT UPGRADING IN NAMIBIA: Practical and implementable insights based on the SDI-UPFI High Level Roundtable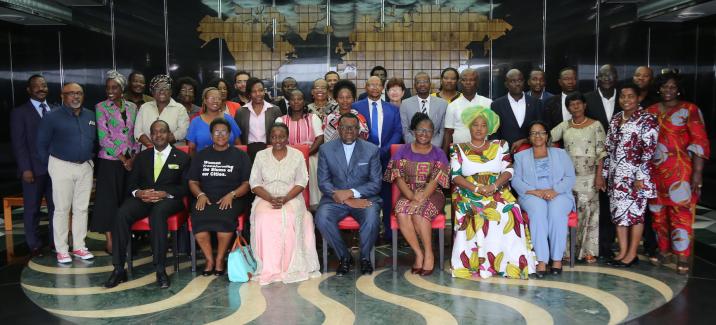 (Photograph credit: Office of the First Lady)
DOWNLOAD THE PUBLICATION HERE.
The following points are a synthesis of the ideas that transpired from the Shack/Slum Dwellers International and Urban Poor Fund International (SDI-UPFI) High Level Roundtable that took place at State House on February 14th, 2019. The session benefitted with inputs from local Namibian experts and stakeholders, as well as regional and international experts including Jane Weru, Executive Director Akiba Mashinani Trust (Kenya); Dr. Beth Chitekwe-Biti, Deputy Manager SDI, Former Director of Dialogue on Shelter (Zimbabwe); Rose Molokoane, Chairperson Shack Dwellers International (South Africa); and Kilion Nyambuga, Programme Officer, SDI Kenya (Kenya). The session also included the participation of a delegation of stakeholders from Liberia, led by Hon. Paulita C.C. Wie, Deputy Minister of Urban Affairs at the Ministry of Internal Affairs.
This paper further relies on two documents: "Unique Challenges faced by the youth in informal settlements", a report by the #BeFree Programme in Informal Settlements; and "Urban Land Reform in Namibia: Getting Ready for Namibia's Urban Future", a policy brief for the Second National Land Conference. All other references are indicated in footnotes.
The paper is co-developed by the Office of the First Lady, Republic of Namibia, and Guillermo Delgado at the Integrated Land Management Institute (ILMI) at the Namibia University of Science and Technology.